Find Us: DFP Ground Zero
The Designing for People Research Cluster's physical space is located on the UBC Point Grey campus in UBC's Forest Sciences Centre, FSC Suite 2300. To find the suite, walk to the rear (south-east) of the building by passing through the large open study area and up the stairs to the second level where you will find yourself in the FSC student "treetop" lounge. Once in the lounge, turn left and pass through the double door: Suite 2300 is on the right.
The DFP Suite includes the DFP Classroom, where most of our events and courses are held; the DFP Studio, a project lab and lounge (including sofas and an excellent coffee machine - come hang out), and the Vault (come and see for yourself).
The Forestry building is indicated by the red arrow in the image below: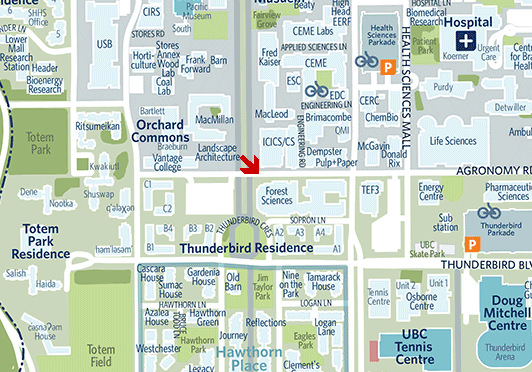 Building Address:
Forest Science Building
2424 Main Mall, Vancouver, BC, V6T 1Z4
DFP Classroom: Suite 2300
DFP Administration: Suite 3644
Find Parking
There are several parking lots near us, but the closest are B4 Lot (open-air) and Thunderbird Parkade. These lots are marked with a purple star on the map below: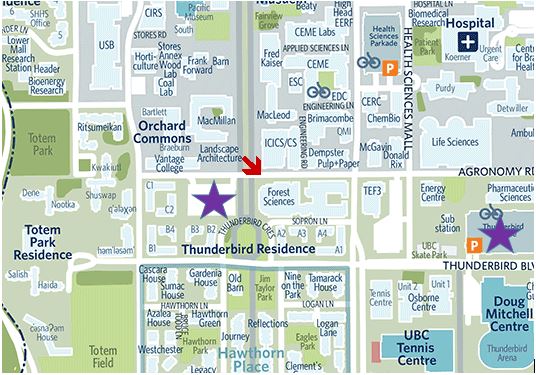 Parking Lot Details:
B4 Lot and Thunderbird Parkade
Open 7:00am - 2:00am
$3.50/hr max $16.00
Sign up for Emails
DFP@UBC has a number of email lists that are used to send announcements to people who are interested in DFP@UBC.
dfp-ubc-students
dfp-ubc-postdocs
dfp-ubc-faculty
dfp-ubc-friends
​​​​
To join the list that is appropriate, send an email to listserv@lists.ubc.ca with the following content in the body of the message: 
subscribe list-name names(s)
example: subscribe dfp-ubc-students Jane
A confirmation email that requires you to click on a link will be sent to you, and then a DFP@UBC administrator will approve your subscription (usually the same business day). 
To remove yourself from a list, send an email to listserv@lists.ubc.ca with the following content in the body of the message:
unsubscribe list-name
example: unsubscribe dfp-ubc-students