Improving Education Feedback with a Speech and Gesture-based Online Commenting System
Lead: Dongwook Yoon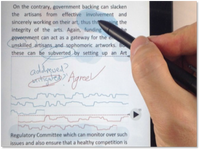 The goal of this project is to improve language education with RichReview, a speech and gesture-based feedback tool. Practicing foreign language speaking in class often frustrates both instructors and students. Speech vanishes into the air without leaving a trace. Due to this transient nature of speech, the instructors cannot concretely refer to what a student said verbally. And students miss the opportunity to reflect on their mistakes. To bridge this gap, we built a voice-based commenting tool through which students can submit speech recordings and instructors can give spoken feedback on students' submissions.
This tool has two unique beneficial features:
(1) an animated visual pointer to refer to a part of the audio content (e.g., "You are using wrong inflection HERE.") 
(2) an efficient browsing feature to replay multiple speech clips quickly and effortlessly.
For evaluation, we plan to deploy the tool in foreign language courses at UBC. We expect that using this tool will enable language instructors to provide in-depth feedback to students on speaking practices.